KNIGHTS OF THE DINNER TABLE HACK! CARD GAME
You and your "friends" have been abducted by aliens. Be the first to escape and make sure the others don't get in your way to find the exit.
MSRP: $10.00 (US)
Order Code: EDN2300
ISBN: 1-891153-00-5
Concept & Design: Matt Colville and George Vasilakos
Development & Editing: M. Alexander Jurkat and Bernard C. Trombley
Format: 72-card poker-size card decks in a tuckbox with a rulesheet. Requires a six-sided die to play (not included).
Release Date: November 2001
Availability: IN STOCK • NOW SHIPPING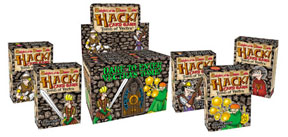 Selling Points For Players
• Non-collectible card game.
• Designed for 2-4 players, with 2 decks expandable to 8 players!
• Ever-changing ship layout makes each game unique.
• Fast and furious game play (average 20-30 minutes).

Selling Point For Retailers
• Low price point.
• Easy to demo.
PRODUCT: CARD GAME
GENRE: FANTASY • HUMOR
GAME SYSTEM: NON-COLLECTIBLE CARD GAME