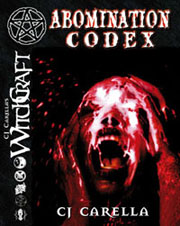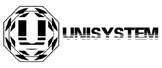 Also available as a PDF from:

ONLINE SUPPORT
ABOMINATION CODEX SOURCEBOOK
Shape-shifters haunt back roads and lonely highways. Immortal beings walk the streets unnoticed and pursue centuries-old agendas. Secret societies manipulate world events and decide the fate of millions. Ancient African cults call on gods and spirits to do their bidding. And those marked with the Taint of the Mad Gods must make a choice -- serve entities from beyond reality or fight to preserve the world and their very sanity.
The approaching Reckoning will spare no one, human or monster, mortal or undying. Hidden Covenants are forced to set aside ancient feuds or long-held vows of secrecy, and step forward to face terrible new foes. Their choices may help save humankind, or doom it completely.
Fear not the monsters, but the beings the monsters fear.
Abomination Codex is a supplement for the WitchCraft roleplaying game. In it, you will find:

• A new Character Type, rules for Ferals, bestial shape-changers, and True Immortals, reincarnated undying children of a lost civilization
• New Associations: the near-invisible Knights Templar, the voodoo-wielding Covenant of Legba, the shape-shifting Nomads, the immortal Lodge of the Undying, and the desparate, Tainted Mockers
• New Metaphysics: The Keys of Solomon, Spirit Patrons, Familiars and Taint Powers, as well as information on Voodoo Magic and Atlantean Arcana
• Background on Elementals, Nature Spirits, Zombies, Fiends, Ethereals and Creatures of Taint
• Compatible with All Flesh Must Be Eaten, Armageddon, and all other Unisystem games.
MSRP: $20.00 (US)
Order Code: EDN4002
ISBN: 1-891153-42-0
Writting: CJ Carella and Brett Smith
Editing and Development: M. Alexander Jurkat
Cover Art: George Vasilakos
Interior Art: ?Chris Keefe, Brad Ridgey, Dan Smith, Juha Vuorma
Format: 7.25" x 9.25" softcover, black and white interiors, 176 pages
Release Date: November 2000
Availability: IN STOCK • NOW SHIPPING
PRODUCT: ROLEPLAYING GAME
GENRE: MODERN • HORROR
GAME SYSTEM: UNISYSTEM